Network Infrastructure Management
Networking Simplified.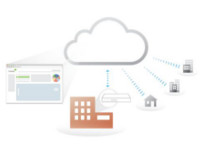 As one component of our Managed IT service, Network Infrastructure Management provides the following benefits in conjunction with your Meraki security appliance, network switch, and wireless access points.
Firewall Configuration and Management Security is paramount, and it begins at the edge of the network. Having a robust firewall with a proper configuration, only allowing the traffic that should get in, is the foundation of keeping the rest of your network secure.
As needs change, or additional services are required, we'll make sure your firewall keeps up.
Content Management and Security
The Meraki Advanced Security license enables on-the-fly scanning of traffic for malware and viruses. We are also able to limit and throttle internet traffic based on content and more!
We will get your environment configured according to your policies and maintain those rules over time.
VPN Setup and Management
Site-to-site VPN connects branches securely without need for expensive private networks and equipment. Setup is flexible, and security policies can be applied across the entire network.
Both full-tunnel and split-tunnel configurations are supported. If VPN connections go down, we're here to support you.
Bandwidth Management and Reporting
We don't like speculating about why the internet is slow or why connecting to the database takes "forever". And you shouldn't have to put up with fixable problems!
With the reporting technology available, we are able to swiftly determine and resolve issues without interrupting your business.
Included in Fully Managed and Integrated IT Packages
Also Available as a Standalone Package!