Dan Bremner, President, Castema Technology Services, Inc.
In a recent article I discussed using Microsoft SharePoint and OneDrive for Business as your company's "file server" replacement, along with how the OneDrive sync client with "Files on Demand" makes the experience of using cloud file storage very similar to the experience of using mapped drives on a file server.
If you use Microsoft Office programs like Word and Excel through an Office 365 subscription, you may have noticed when saving and opening files, that SharePoint and OneDrive are prominently featured as default locations: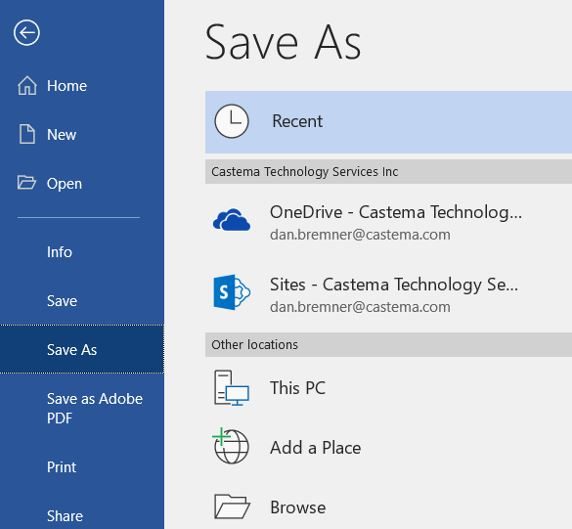 This makes using cloud storage even easier, since no syncing client needs to be installed. You can directly open and save files in their cloud locations right from the app. It's much better than it used to be even just a few years ago when it was necessary to save files to your local computer as an interim step between editing the file and uploading/downloading it from SharePoint, at least if you wanted to use the desktop versions of Excel, Word, PowerPoint, etc. to create or edit the file.
Even better, more third-party software companies are now adopting support for Office 365 cloud collaboration and storage. Adobe, for example announced a partnership with Microsoft in 2017, supporting not only their own Document Cloud and Creative Cloud, but also Microsoft's cloud. This helps companies to standardize on a common cloud storage location, with only one place to manage identities and permissions. As an example, when you save a PDF in Adobe Acrobat DC, you may see something like this, including local (My Computer), Adobe's cloud (Document Cloud) and Microsoft's (OneDrive, SharePoint) as file location options: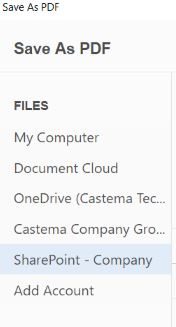 Just last month, Microsoft and AutoDesk announced that AutoCAD has now added integrations with Microsoft's OneDrive and SharePoint as well. This is another step to help pave the way for companies moving more of their storage to the cloud and standardizing on a common file location. AutoDesk also announced that support for the Microsoft cloud will extend to their online web app and their mobile AutoCAD app, meaning a drawing being worked on from the desktop app can be accessed and worked on from anywhere, on any computer.
We expect to see many similar integrations along these lines as developers incorporate these Microsoft tools into their programs. It's one more reason we see companies adopting a Modern Office workflow that embraces access to the information you need it, when you need it, wherever you are, and using whatever device makes sense to use, and doesn't rely on local access to file servers to get work done.
Is your organization ready for a modern approach to how you access and manage your company's files? Drop me a note at [email protected] to talk about how we can help you get there.